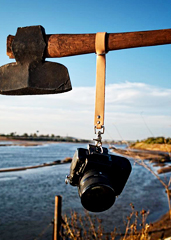 You know that saying about how you should keep your friends close and your enemies closer...
Well, it's half correct.
What you actually want to do is keep your friends close and your enemies on standby in case you ever need a slick-looking leather dopp kit.
Presenting
HoldFast
, an Oklahoma outfitter that is hand-making ruggedly handsome/Americana-inspired travel accessories, available online now.
Let's just get this out of the way: yes, this line is owned and operated by a guy who calls Oklahoma home (not Kevin Durant). But putting our differences aside—there's some good stuff happening here. Like a Kodiak-tanned cowhide dopp kit that looks like it was made for summer-tripping through the Keys (or any coral archipelago, for that matter).
But let's say you're going on safari next month/planning to attend Game 4 this week. Then, you'll want to examine some of their more sturdy stuff. Perhaps the mahogany-colored camera harness that's fashioned from American bison. Also, the photographer's wallet that's made from water buffalo, virtually indestructible and outfitted with a special slot to store memory cards.
Or really tightly folded fifties.