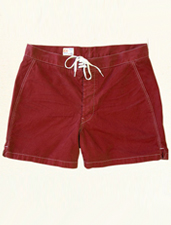 There you were on the west side of Oahu.
Makaha, to be exact.
The year: 1954. Your surfboard: 10 feet long. The waves: 20 feet high. Your life: not yet in progress.
That's because it was all a dream.
But if you happened to be wearing boardshorts in that dream, they would have looked exactly like this...
Witness the big-wave-riding glory of
M. Nii's Makaha Drowners
, a new batch of throwback twill boardshorts modeled after legendary Oahu tailor M. Nii's original designs, available online now.
So here's how the story goes: back in the day, surfers in Hawaii discovered big waves. Then those big waves ripped their boardshorts to s**t. Then a tailor named M. Nii came along and was like, "Hey, I can make you some boardshorts that won't get ripped to s**t." And the surfers rejoiced. And then probably got high.
Anyway, that's when these things were born.
But considering the venerable Mr. Nii has since ceased production of the Drowners, you'll be happy to hear that the former VP of Quiksilver and a custom board maker have taken it upon themselves to recreate those very shorts for your beachcombing pleasure.
Button-fly shorts. Indestructible shorts. Shorts made out of ring-spun twill that come in colors like indigo blue, Koa khaki and Alii red.
It's like regular red, only more Hawaiian.