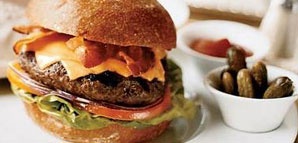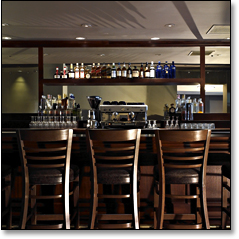 Your taste buds are lucky.
In this town, they can find just about any cuisine on the planet, any night of the week.
But sometimes you'd prefer to stick to good, honest all-American food.
Which is why we'll know where to find you come Monday, when
Perry's on the Embarcadero
opens...on the Embarcadero.
You're familiar with Perry's on Union, the family-run Marina mainstay going on forty years. This one, just a few doors from Boulevard, takes the best of the original—hearty food, strong drinks and long hours—and runs with it.
This is the spot to keep in your back pocket for anytime you feel like eating or drinking well—they open at the crack of dawn and close after midnight. Meet up at the large, mahogany-topped bar for a Manhattan at happy hour, or watch college ball on one of the five flat screens over
Willy Halnan's Corned Beef Hash
on a Saturday morning.
But with its dark wood floor and tables, exposed brick walls, cushy banquettes and wood-burning fireplace, you're also looking at a prime date spot. Snag a booth toward the back overlooking the Bay, and if all's going well, feed her slices of
New York Strip
, or nibble on
Cornmeal Fried Calamari
.
Feel free to show up again for breakfast.