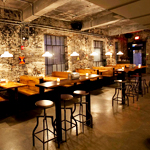 FOR METAL
Spirits in Black at American Ice Co.
What you'll hear: Classic Black Sabbath, Metallica and Slayer.
Who you'll see: Hipster headbangers flashing the devil's horns.
What you'll drink: Each event brings a different guest mixologist, but you can always expect the Rye on Fire, a whiskey concoction with a flaming peanut shell.