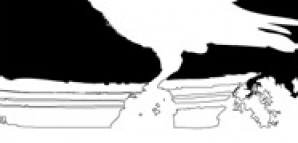 Venturing into the land of "unique personal style," while worthwhile, can be precarious. It means heading down a path that can unwittingly lead to shredded silk shirts, leather pants, and terrycloth headbands (possibly all worn together).
That's why we love
Odin
, a store that's managed to nail that difficult balance between the stylish and the wearable.
This afternoon, the tiny shop opens a second, more spacious Soho store two doors down from
La Esquina
.
Like the original, the new store sports the best undiscovered labels before they go into the bigger men's stores, but owners Eddy Chai and Paul Birardi have one test before they buy anything: "Would we wear it?"
Luckily, their good taste does well for all of us. Hit up familiar standbys like
Trovata
polos, Paul Smith shirts and Engineered Garments jackets. Then venture on to their exclusives, like the Umbro by Kim Jones World Cup soccer shirts and jerseys, or Y-3's wool zip-up sweaters. Snag some unique finds, like a resin
Shane
belt buckle, a Salvor graphic tee of a giant penguin or a pair of well-washed black Chimala jeans from Japan.
Sorry, no powder blue tuxedos. Though we hear that look, along with the shredded silk shirt and terrycloth headband, is gonna be it in 2007.