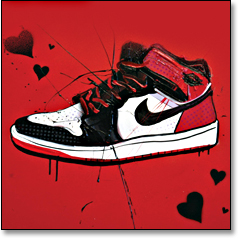 A little inspiration never hurt anything.
So as the Chicago Bulls begin their season tonight, we'd like to remind you of a time when a simple pair of sneakers was enough to send you into the stratosphere—even when someone else was wearing them.
Introducing
Art & Sole
, a loving treatise on the intersection of athletic shoes and pop art, now available online.
The first half of the book takes a look at the interesting things that happen when artists use the shoes as their canvas. From Japanese comic illustrator Katsuya Terada's devilish design for the Nike Dunk, to Mihara Yasuhiro's metallic Pumas, the book traces the evolution of the now ubiquitous shoemaker-artist collaboration.
But you'll really appreciate the book's second half, where the shoes themselves become inspiration. Perhaps no piece makes the point better than Jethro Haynes' cover illustration, with tiny black hearts that float around a rendering of the original Air Jordans.
Somewhere in Beverly Hills, Turtle has a chubby.