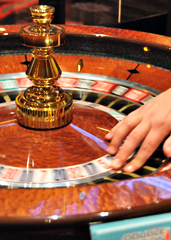 The 20th century: chock-full of groundbreaking gambling innovations.
Online poker, off-track betting, piñata craps.
But no one has dared to truly change the game.
No one has tried to reinvent the wheel.
Literally. By adding another wheel.
Introducing
Double Action Roulette
, a new
Inception
-esque breakthrough in roulette technology, spinning now at the M Resort casino.
You'll find this thing handy when you're left with no time and one choice: make the big score so you can rescue your new fiancée from spending a night with a vacuum magnate.
The stakes: higher than ever. To play, spin a smaller inner wheel counter-clockwise to the bigger wheel. On the table, you'll see your usual array of betting options (red/black, odd/even, corners, the street, 14), only doubled and spread across two light-up grids. Crowds will gather. Roulette rivals will surface. Cocktail waitresses will drop their trays in the clamor to place your bets (we can only assume).
And if you really feel like it's your night, drop a few ducats on the side bet: if the same number lines up for both wheels, you'll walk away with a princely $1,200 on a $1 wager.
Which should stake you for mega baccarat when that catches on.