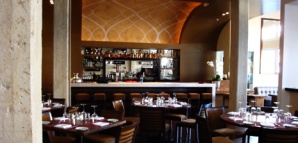 In matters of love and dinner, your needs are the same. Fire. Wine. A bit of leisurely excess now and again.
 
So you're well acquainted with the patio at Fraîche, one of our Culver City favorites. And starting tomorrow, you can indulge its new Santa Monica sibling, Riva.
 
If you're in the mood for a feast of a date, reserve a table in the back—far from the waning sunlight and pedestrians who've lost their way from the Promenade. Once settled, you'll find a menu that recalls Fraîche's wandering-through-Europe vibe, divided into the new four food groups—appetizer, entree, crudo and pizza. (Think housemade head cheese for the first, and the Polpette, covered with tiny meatballs, for the last.)

Of course, if you're just in the mood for an Aperol Cucumber Fizz and some Grilled Octopus, you can drop by unannounced for a seat in the small lounge by the windows, at the bar or back by the kitchen, at what we hereby dub the pizza bar. (It's by the wood-burning oven, with pizza options written on the chalkboard above, but you can order whatever you want.) It's dinner-only to start, but lunch will come within a couple weeks.
 
When you can indulge in another European tradition—the carefree two-bottle lunch.