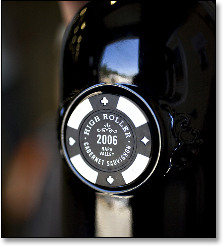 You've never been one to judge a book by its cover, a woman by her Manolos or a wine by its label.  
Instead, you trust your instincts—and usually get the style and the substance you so obviously deserve...
So we think you'll appreciate
JAQK wines
, eight new hand-harvested, limited-production—and damn fine-looking—wines, available now online and in select spots as early as Monday.  
Inspired by the jack, ace, queen and king in a deck of cards, the folks at San Francisco-based JAQK cellars crafted wines from select boutique vineyards in Napa, Sonoma, Paso Robles and Lake County, and gave them mischievous, gambling-themed labels like
High Roller Cab
,
Her Majesty Chardonnay
and
Soldiers of Fortune Shiraz
(much preferred to the Prison Guard Pinot).
And while you can buy bottles individually, you won't want to leave anything to chance. Get the
Full House
Gift Set
(the poker hand, not the sitcom), which includes all eight wines, and cover your bases.  
Or have a few bottles on hand for poker night.