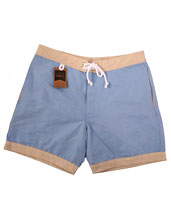 Quick, get naked.
...
Quick, forget we said that.
But still... do it.
Now, go to the window and look outside. There are pools out there. Bodies of water. Three-masted sloops spewing champagne and bikinis in every direction.
Which is why it's a good thing you're already naked. Because now there's only one thing keeping you from getting out there and summering your face off.
These...
Take a look at
Cuisse de Grenouille
, a new shop started by a few Frenchmen who would like nothing more than to bequeath you with a pair of impossibly dog-day-friendly swim trunks inspired by the '50s California surf scene, online now.
So about these French guys. Their names: Lucas and Séverin. Their passions: cinema and surf culture. Their mission: making sure you leave the beach, pool and/or swim-up brunch table a more handsome place than you found it.
And to that end, you'll head to the site and have your way with over a dozen varieties of boardshorts ranging anywhere from navy with pink trim to sky blue with tan trim. They're just short enough. Just snug enough. And just French enough to make you want to slap an Arabic linen scarf around your neck while you're at it.
Which reminds us, they have those, too. Along with braided wool belts and cashmere knit ties.
Which you can also wear naked.
Because, you know... the French.
But maybe not.
Probably yes though.
Only if you want to.
No pressure.
Do it.
Anyway, see you Tuesday.