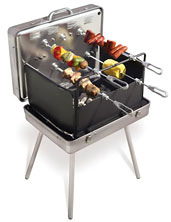 It's about a week before the unofficial start of summer, so that means one thing...
Your search for the perfect metal briefcase that can convert into a massive Brazilian barbecue pit begins.
Let's not waste precious time:
The Brazilian Barbecue Briefcase
is here, ready to help make sure you have skewers of tender, juicy meat wherever you happen to need them.
To understand this thing, you'll have to think of—and we're sorry for this—
Transformers
(ponder the Hasbro version if that's easier). In other words, imagine something simple and everyday—an aluminum briefcase—suddenly revealing itself as something infinitely more awesome. In this case, a portable version of Fogo de Chao.
Obviously, this comes at precisely the right time. You've got some big plans this summer—and you'll need something portable enough to bring to those gaúcho drives in the North Shore, the Olympic volleyball matches in London, your Carnaval-themed beach party at North Avenue.
Execution is easy: simply flip it on its side, extend the legs and turn on the motorized spits that will make sure your skewer of lamb or beef cooks evenly over the coals for six hours. Then, remove the spits so you can carve tableside.
Or beachside.