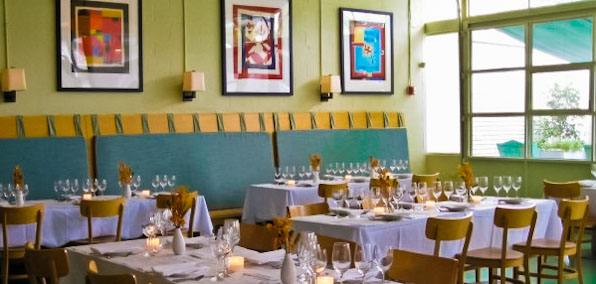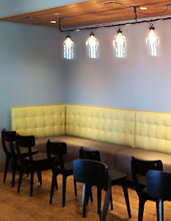 You'll never forget where you were (in Morningside, eating a wheel of brie, not wearing pants) when you heard the news last summer...
Watershed had died...
You mourned. You prayed. It took months before you could look at fried chicken again.
But today, we're here to tell you that none of it was necessary.
Because Watershed is back. It has risen...
Presenting the fully resurrected
Watershed on Peachtree
, a behemoth of a date spot filled with fried pimento sandwiches and bacony popcorn balls (okay, so it's a behemoth of a second date spot), taking reservations now for the official opening this Friday in South Buckhead.
Forget everything you knew about the old Decatur outpost. Except Joe Truex. And the famous fried-chicken nights (yes, they're back, you can stop hyperventilating). Otherwise, total clean slate.
What you'll find now: concrete walls, lots of yellow and a rugged wooden bar. Start your evening there by washing down fried oysters and Vietnamese pickled vegetables with a round of spicy reds. After, matriculate into the dining room—it's the area with the wagon wheel on the wall (also, all the tables). Summon a garçon (a polite wave/foghorn should work). Ask for the scallop schnitzel and cowgirl-style rib eye with black truffle gravy...
Unless it's brunch. In which case you're in the wrong place. You should be out on their patio, drinking Bloody Marys, eating coconut pancakes and wearing pants.
Otherwise they won't serve you.