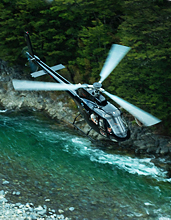 78 degrees. Sunny. Not a Redford in sight.
Perfect time to visit Aspen.
And pull off a bunch of crazy cowboy stunts with no one around to stop you...
Behold
Adventures at the Little Nell
, a new series of nature romps led by one of Aspen's handsomest ski lodges, taking reservations now through the end of summer.
The idea here: for as long as the slopes are empty, you'll have the best of Aspen for the taking, and a dream team of outdoorsmen standing by with air support to help you take it.
Your day begins in a familiar-enough setting—on top of Aspen Mountain—only this time, you'll have some alternatives for getting down: hiking. Paragliding. Mountain biking your first double black diamond with a pro cyclist. Either way, it ends with you stand-up paddleboarding on Class II rapids, followed by a light snack on the riverbanks.
When you're ready for a proper meal, a helicopter will come to airlift you onto a privately owned stretch of the Roaring Fork River 60 miles away, where Colorado's catch-and-release laws don't apply.
You never pass up a good dinner loophole.