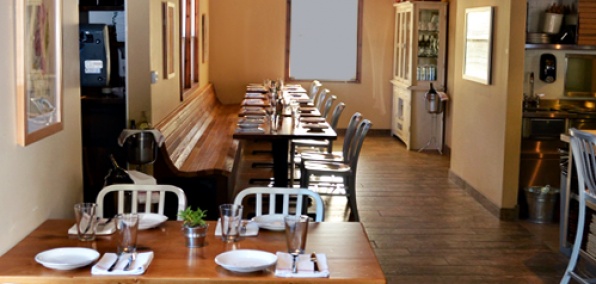 Today, we address...
... those of you who own shares of Facebook:
Congratulations. Well played. You should treat yourself at this place. And maybe buy a private island somewhere.
… those of you who do not own shares of Facebook:
Sorry. Tough day. You should console yourself with some wine at this place...
This place being
Glen Ellen Star
, a smart-looking new bistro serving up wood-fired eats and rare wine, opening tonight in Sonoma.
You'll find yourself here on the way to or from a certain Pixar exec's winery (cough,
Lasseter
, cough).
You'll begin with a key decision. Dine on the patio (outdoor, secluded) or under the rafters inside. (The forecast for this weekend: warm with a strong chance of patio.)
Next: wine. The wifely half of this husband-wife team is of the Benziger Winery clan. Meaning you'll be in good hands with the house stuff—much of which will come straight from a keg. But you should also expect some rare, cellared stuff from their private collection on the reserve list.
Finally: food. Chef/husband Ari has worked in New York kitchens like Corton and Picholine, as well as the French Laundry, and his expertise here is the wood oven. He'll cook everything from favas to pizza in there. He'll also roast a whole spring lamb that'll serve up to eight with 72 hours' notice.
You might want to cancel your Monday meetings.