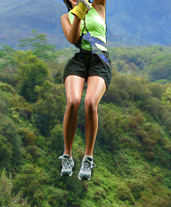 First of all, goedemiddag.
We hope you're having a great NATO summit.
If you're bothered by the traffic, you could always abandon your car on Michigan Avenue and traverse the city by zipline. But first, you better practice...
Best place for that:
Lake Geneva Canopy Tours
, a high-wire network of cables strung over the unrestricted airspace of the Wisconsin forest, now ready for emergency weekend escapes.
Right about now, you're probably rethinking your plans for that friendly game of international frisbee golf in Grant Park, so here's some good news: the Canopy Tours people still have some spots for this weekend. Simply point your motorcade north and stop when you get about a mile and a half past downtown Lake Geneva.
You'll start with a brief orientation, then get outfitted with the requisite equipment: chest harness, leather gloves, helmet. Then, you'll be taken to the forest, led up a platform and dropped from a tree. If all goes as planned, you'll also be connected to a wire.
You'll spend the next few hours gliding over treetops, zipping from platform to platform and examining the way life looks anywhere from 10 to 75 feet above ground. It's great practice for your Andrew Garfield–in–
The Amazing Spider-Man
impression.
So much more thrilling than your Andrew Garfield–in–
The Social Network
impression.