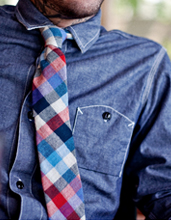 This is the city that works.
This is the city that plays.
Also: it's the city that knows how to wear the hell out of a good necktie.
Your latest challenge:
Stalward Ltd.
, a line of just really, truly, very nice ties that happen to be hand-stitched on the West Side, available online now.
They're actually designed in New York, but when the makers needed a place that had the exact blend of ruggedness and finesse, they came here. The designers' inspiration: the not-too-fat, not-too-skinny ties you might see in a military cadet parade.
In other words, these ties offer the versatility you need at this time of year, when your neckwear is forced to triple its power output. To wit:
Daytime:
At the office, you need a power tie. Something that says "Don't you dare take that last jelly donut from the conference room." Something in a Japanese cotton chambray should do the trick.
Nighttime:
Slightly loosened at 6:30pm at your favorite rooftop cocktail soiree, your tie needs to project a certain effortless élan. The élan only a blue-and-red plaid can deliver. (Okay, a martini helps.)
Weekend Barbecue:
Keep it simple, breezy. Sunglasses. Jeans. Something lightweight and brightly checked hanging around your neck.
Perhaps even a shirt.