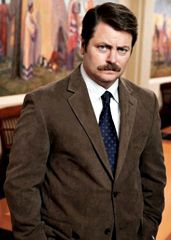 You probably already know something about
Nick Offerman
. Illinois native. Plays laconic meat-lover Ron Swanson on
Parks and Recreation
. Owner of the second-greatest mustache ever displayed in prime time. (But watch your back, Selleck.) As he prepares to perform his one-man show
American Ham
next month, we wanted to give you some other important data on the man—and the 'stache.
He's from a small town in Illinois called Minooka. Don't mistake it for Pawnee.
"Pawnee would be more like a Joliet," he says.
He has a BFA from the University of Illinois.
Don't arrive late for his new show: it features minor nudity right at the top.
"Yeah, it really packs 'em in."
It also features anecdotes, woodworking tips and songs. But it's not stand-up comedy.
"I consider myself more of a humorist."
He lived in Rogers Park in the mid-'90s. He knew Amy Poehler. But he had never seen an improv show until his mid-30s.
His key to a good mustache:
"Rub a dollop of animal fat into your whiskers. Then comb. Repeat."
He sells furniture and mustache combs
on his woodworking website
.
The mustache comb is his best seller.
He can also build you a canoe.
The one place he'd take Ron Swanson for a night on the town in Chicago:
Gibsons.
Where he'd take himself:
Moody's Pub for a cheeseburger. "It has a great courtyard. It feels halfway to Middle Earth."
He makes it back to Minooka a couple times a year.
"My family still treats me like the jackass I am."
Note:
Nick Offerman, performing <em>American Ham</em> on June 16 at the Vic Theatre (part of TBS Just for Laughs Festival), <a href="http://www.tbs.com/justforlaughschicago/stories/story/0,,261771,00.html" target= "_blank">tickets here</a><br /> <br /> For the full interview, <a href="http://www.getkempt.com/?p=18309" target="_blank">go to Kempt</a>