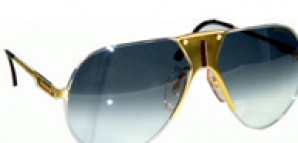 Like you, your style is built to stand the test of time.

And some of it already has.

Like your new sunglasses from Rare Eyewear, now hitting Nomads and Harputs.

Here's the story with Rare: San Francisco-based buyer Curtis Hawes travels the world, scavenging collections in Italy, Austria, England and Holland, to bring you the best discontinued frames that have never been worn. (Even the packaging is original, so you know they're the real deal.)

Don't be surprised if you experience a few flashbacks while browsing the shades. Most of the styles are from the '80s, with some pairs going back to the '60s and '70s. You'll love the Top Gun-inspired foldable Porsche frames with interchangeable lenses, or the Boeing Carrera aviators—both are perfectly suited for a trip on your jet...or your bike. If it's bling you're looking for, try the chunky Cazal or the gold Alpinas—they'll fit right in at Minna. And to get that nerdy-hipster look, it's all about the plastic-rimmed Playboy frames.

You'll also probably dig the Risky Business-esque Wayfarers. The black ones are solid, but we think the limited-edition snakeskin merit serious consideration.

After all, it's a look that's been around since the serpent.