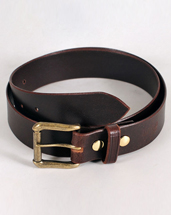 The British royal family.
Esteemed. Rosy-cheeked. Great saddles. (This is not a Pippa joke.)
Just ask their saddlemaker... when he fashions your next belt by hand.
Say hello to
The
Ashdown Workshop Co
., a leather operation run by the British royal family's ex-saddle-guy, available online now.
Lofty goal, transporting key aristocrats on the backs of their steeds. Equally noble: helping you look good when you pick up the check. That's the idea here.
We're talking handsome leather wallets, and belts you could use to zipline off a building,
Ghost Protocol
–style. Oh, and should you need a sturdy key chain when breaking into that nuclear-testing facility—or, you know, for carrying a bunch of keys—here's one woven with military-grade parachute rope.
It's all coming from a father-son duo who hired one grizzled saddlemaker (we presume) to handcraft these indestructible wallets from creamy, vegetable-tanned leather. Which means your wallet will age gracefully with time.
Sort of like the Diane Lane of wallets.