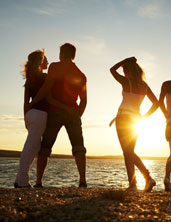 Pop quiz.
Guess how much sand it would require to turn a regular Charlestown bar into a beach bar.
Time's up.
Answer: seven tons.
In case you need some proof: say hello to the
Tavern on the Water Sand Bar
, a beach-ified transformation of the beloved pier bar, making its debut tomorrow.
First, let's be clear. Your favorite Charlestown go-to with the killer city views is still just that. The big difference: the downstairs patio is about to have seven tons of sand dropped on it tomorrow morning. To cover the entire sitting area for the rest of the season.
So get your mind thinking about tomorrow afternoon (shouldn't be hard). You'll roll in here with a few friends (all fully flip-flopped) and grab your regular table. You'll order up pitchers of
Drunken Sailors
(rum, lemonade) and a few dozen Maine lobster rolls. Only now you'll kick back above a bed of sand (sand between toes = happier you).
And as long as there's sand, the Tavern folks figured they'd throw a few beach parties this summer. Like a crawfish boil, a bring-your-own-kiddie-pool fiesta (yes, arm floaties are encouraged), even a
Gilligan's Island
–themed bash.
Which may or may not last three hours.