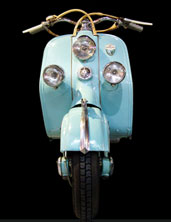 Perhaps it's the heat. Maybe it's the Mavs not winning one damn playoff game. Or it could be that it's Monday and, despite your best effort, you still smell like a mariachi band.
But you just need to get out of the office.
Preferably on a bright-red scooter...
Enter
Apache Scooter Rental
, the first Vespa-rental service that'll deliver scooters straight to your door, available now.
If you've ever wanted to explore the city's undiscovered back roads with a sweater ceremoniously draped over your shoulders—or just feel the need to reenact the motorcycle scene from
Terminator 2
on a royal-blue Vespa—this is your play.
Now, if you need two or more 50cc scooters for a full day with your band of Vespa-loving marauders, they'll deliver to you. Just book them online (or via phone) 24 hours ahead of time. But if you are looking to claim a lone wolf for an underground drag race or an equally-as-dangerous Yumilicious run, just head to the parking lot across from Uptown Bar & Grill, get through some waiver signing and helmet modeling, and you can drive one off the lot on the spot.
Nothing earns street cred like a scooter helmet.