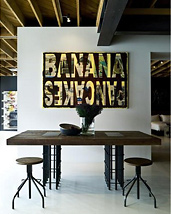 Twinkies: made in Illinois.
Jazz: made in New Orleans.
Jennifer Lawrence: made in Kentucky.
Yes, your coveting of anything made in America is well documented.
Not as well documented: that you prefer coveting online.
Especially when beard oil is involved.
Introducing
Shelter Half
, the just-launched online shop from a Los Angeles outfit bringing you American-made apparel, furniture and accessories, available now.
Think of this as something of a helping hand when planning your first warm-weather blowout BBQ of the season and needing a few things to round out the scene (beyond killer meats, anyway).
The highlights include: beanbag chairs made from recycled Army tents (aka lounging by way of
Band of Brothers
). As well as ruggedly handsome tables made from reclaimed dunnage wood and rebar (although at almost $4K, you may not want to play beer pong on them).
And if you poke around, you'll probably find something you didn't know you wanted till you saw it. Say, a French terry distressed hoodie. Or antique Navajo area rugs (the preferred rug style of Val Kilmer). Or just some Dude No. 1 beard oil made from Virginia cedarwood, green coriander and organic hemp seed oil.
Which is exactly how Jeff Bridges naturally smells.