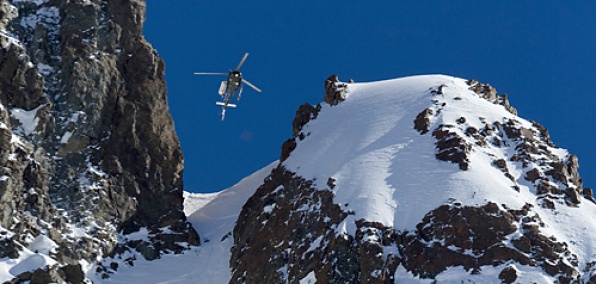 South America's best stuff isn't readily accessible.

Hidden stashes of pure, untouched powder are usually off-limits like that.

But then again, so are most fun things... until you know a guy... who knows a guy... with a helicopter.

Presenting Central Andes Secret Spot, a base-hopping ski safari that turns remote sections of the high Andes into your personal champagne powder/test course, taking reservations now for July to October.

The problem: unless you count sandboarding as a viable option, your high-adrenaline arsenal is rapidly thawing. Suggested remedy: base-jumping with Branson. Or: six days of trailblazing across a trio of Andean mountain ranges dusted with fresh virgin snow... chased with a steady course of outdoor-hot-tub immersion.

Here's how it works: first, you'll fly by helicopter over a protected circle of summits shielded from wind by sheer rock face and/or condor migration. Equipped with a pair of eagle eyes and some avalanche gear, your Chilean mountain guide will identify steep crevasses that may or may not be skiable. Either way, you'll find out... by dropping onto 4,000-foot vertical runs down red and gray granite spires.

After you have your answer, you'll be air-chauffeured back to Puma Lodge, the world's only upmarket heli-ski hotel, for a little R&R.

Actual pumas not included.