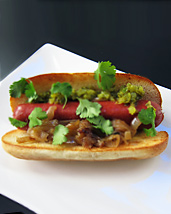 February 13, 2009: a day that will live in infamy.
The original Umami Burger opened, and our city was never the same.
Also,
He's Just Not That Into You
was the No. 2 movie in America.
But let's focus on Umami. Because now they have a hot dog.
Yes, it's real: introducing
The Umami Dog
, the burger institution's first foray into the kind of meat that requires a more oval-y bun, launching today.
To be among the first to sample this thing, you'll have to rally some friends for a road trip out to the new Thousand Oaks location, the only place it's available for now. But that's just a quiet kickoff before it rolls out elsewhere. Sort of like the preview screening of
He's Just Not That
... actually, never mind. Moving on.
Anyway, the hot dog: it's not sprinkled with gold dust or ground unicorn horn or anything. Just an Akaushi Kobe beef dog topped with housemade relish, mustard, caramelized onions and cilantro. And that strangely glorious Umami-ness you've never experienced in a hot dog before.
Officially.