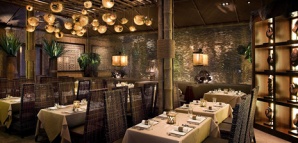 Sure, you generally favor a good scotch—but lately you've been craving...a secret-recipe cocktail supped from a giant coconut.
 
Luau rises from the dead on Friday in Beverly Hills, with a new look and an old cocktail menu so hush-hush that it literally had to be decoded (more on that later).

Once home to many a Rat Pack binge (like every place in LA with a liquor license), the new Luau brings you an upscale Balinese vibe—think Murano glass-tiled walls and lamps made from puffer fish—to go with those booze-filled tree fruits. And if you need something a little more substantial, we can vouch for the tasty Banana Leaf-Wrapped Halibut. But the Pupu Platter with Wagyu Meatballs is better for sharing with somebody you wouldn't mind seeing in a hula skirt later.

And as for those drinks, original owner Steve "Mr. Lana Turner" Crane was so paranoid about his concoctions, he recorded all his recipes in code. (Talk about dedication to the craft.) So when reopening Luau thirty years later, the man behind Il Sole hired esteemed tiki mixologist/cocktail detective Jeff Berry, who'd already cracked it. Now you can have your BoLo, Pearl Diver and Luau Coconut like Sinatra before you...but you can't ask what's in them.
 
Though your refined palate just might detect a splash of rum.