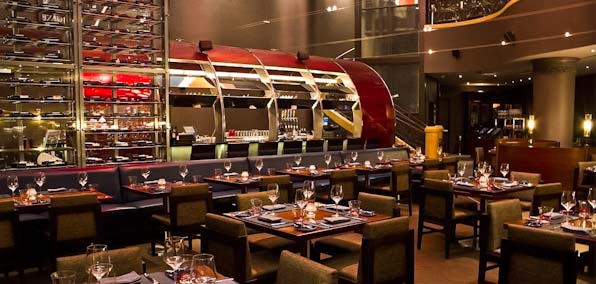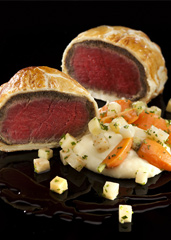 Every chef has his motivations for reaching the top of his craft.
Free cutlery. Hostess-hiring power. Self-name-dropping opportunities.
But until that stable of world-class restaurants includes a two-story coliseum of beef Wellington overlooking fake Paris, you haven't really made it.
At least not in Vegas.
Presenting
Gordon Ramsay Steak
, a glittering tribute to the power of celebrity chefdom, British brew and menacing quantities of steak, marching into the Paris Las Vegas on May 11.
Ramsay: outspoken guy. Gets a bad rap, but really just wants his meat cooked right (or in the case of this place's beef tartare with Guinness-infused mustard seeds, not at all). And he wants the stuff enjoyed under a giant British flag mural sprawled across a 7,500-square-foot room only accessible by underground Chunnel.
Enter the C-shaped tube from the casino lobby—halfway down, there's a bar where you can refuel with English ale aged in whiskey casks. Do that. Then trace the scent of London-imported fish and chips upstairs, back toward the kitchen.
Assuming you've come here to celebrate an occasion (other than hunger), go through a pair of French doors into a narrow, mahogany dining room that feels like the private dining car of an old Eurostar train from Paris to London. Here, you'll commiserate over never-before-sold-in-the-US British microbrews, marveling out your window at the shimmering casino lights below.
The slot pits are lovely this time of year.