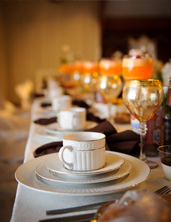 According to a completely made-up study that was not performed by the US Department of Agriculture:
People who eat home-cooked meals on Sunday live longer.
And people who eat home-cooked meals in a stranger's gated Buckhead estate have better stories to talk about at work on Monday.
Presenting
Sunday Suppers
, a spring miniseries of dinner parties thrown in unfamiliar mansions and hosted by very familiar chefs, accepting reservations now for multiple seatings/homes on May 6 and 20.
It's a supper club. You've heard of those. You know how those work. You also know that normally they take place in restaurants. Or occasionally art galleries. Or anyplace that doesn't look like the house from
Clue
.
Well, consider this the exception, then.
So let's say you're wanting to impress a hungry date who has a thing for fine dining and manors that smell like rich people. You'll peruse a list of welcoming estates and featured award-winning chefs. Then you'll make a reservation. Then you'll show up at a hedge-guarded property in Buckhead that's owned by someone with a name like Saxby.
You'll be welcomed in. You'll be showed to the formal dining room. And then a chef—perhaps it will be Todd Ginsberg from Bocado—will shower you with a four-course feast featuring the likes of Maple Leaf duck breast glazed in cabernet sauce.
Not the first time you've been showered in cabernet sauce.