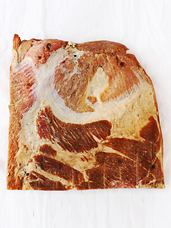 Let's talk about your typical weekend breakfast.
The eggs in your fridge: from chickens that wake up to Mozart and a massage.
The coffee: each bean is harvested onto a tiny satin pillow. (To prevent bruising.)
And yet you're just getting your bacon from the grocery store...
Introducing
Name Your Slab
from Cast Iron Gourmet, your chance to collaborate with a true bacon aficionado to create your own hunk of custom pork genius, available now.
If you're unfamiliar with the Cast Iron Gourmet, just know that she goes by the name Rashida, and she's the kind of LA woman who sells lamb bacon, duck bacon and bourbon bacon chutney at markets and online. In short, your kind of woman.
And now she'll help you truly step up your bacon game. You'll get together in person. You'll discuss spiciness. Flavor. This recurring dream you have involving honey, bourbon and cardamom bitters. (Yes, this is all still about bacon.)
Then you let her go do her thing—in no time, she'll get you a dozen pounds of your completely customized new bacon. Named... whatever you want to name it.
"Grease Lightning" has a nice ring...