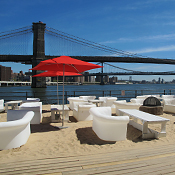 Beekman Beer Garden Beach Club
The Hot Minute: 11:12am, with the sun at 136°.
The Hot Seat: Just pick a seat, any seat. It's all non-obscured, unadulterated vitamin D on the water.
The Hotness: Bikini brunches on 10,000 square feet of good old-fashioned, trucked-in sandy beach looking out at the Brooklyn Bridge from a white couch. Plus: beer.