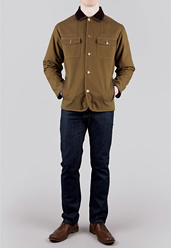 It's the end of World War I.
The Central Powers have been defeated.
The Allies have emerged victorious.
And the British... well, they're making pants.
Say hello to
Private White V.C.
, a hat tip to old-school haberdashing in the form of an online shop full of moleskin bomber jackets, stone cord jeans and other battle-inspired hardware straight from the UK, available now.
This is the kind of gear you'll want to have around for those breezy patio nights spent with a snifter of something in one hand and a copy of Churchill's
The Last Lion
in the other (reading on busy patios is the new not reading on busy patios).
And about that WWI business: the label was founded by a military hero by the name of Private Jack White, who was fresh out of the King's Own Royal Regiment when he decided to open up a little textile factory in Manchester.
Fast-forward about 95 years, throw in a few of his legacy-keeping grandchildren, and there it is—an unapologetically rugged stash of throwback British military gear like navy worksuit jackets with butcher buttons (for that patio), striped crewneck pullovers (for captaining your dinghy) and dark stone chino shorts with military-grade zippers.
Best not to leave such things to chance.