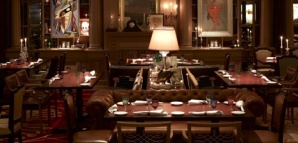 Apparently, you can go home again.
 
After twenty years away, prodigal son Michael Mina is back in LA, along with pals Philippe Starck and Sam Nazarian, to bring you the long-awaited Sunset Boulevard small-plates palace that is XIV, opening tomorrow.
 
You may have heard a thing or two about XIV, but you'll want to check out this unusual, genteel restaurant first-hand. You'll immediately be comforted by the dark and cozy mix of European furnishings, fireplaces, bookshelves, paintings and chocolate-brown velvet—it's as if you're dining in an eccentric Count's country getaway (Count Chocula, excluded).
 
Bring a date—preferably one that isn't afraid of experimenting a bit (which should already be a given)—grab a table by one of the mirrored walls and dig into the adventurous menu. Rather than use pesky designations like "appetizer" or "entree," Mina divided his food into seven categories— Shellfish, Garden Vegetables, Meat & Game, etc.—with the idea that you'll mix and match options to create an individual tasting menu (try the Sake and Maple-Cured Kanpachi or Saffron-Braised Veal Cheek).
 
And if you're reminded of some of the debauched nights you've spent at the similarly sceney but much larger Chateau next door, so be it.
 
There goes the neighborhood...