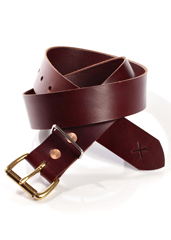 Let's check the inventory.
Carry-on bag. Camera hanging around your neck. Pocket notebook. Billfold full of cash. Stubble.
We don't know what distant land you're off to today, but we hope the natives speak handsome. (Also: that the native hotels have in-room massage.)
And just in case you need any last-minute items before your flight leaves the helipad, there's
Draught Dry Goods
, an outfitter specializing exclusively in the ruggedly dapper world of accessories, available online now.
These products also come from a far-off distant land: Portlandia (formerly known as Portland, Oregon). That means they pass the made-in-the-USA test you require when it comes to choosing the exactly right diamond-folded, waxed-canvas billfold. The fact that it happens to be that rare breed of billfold that passes the has-enough-space-for-all-your-stuff test is just gravy.
Beyond that, you'll find cases for those little things: say, a mahogany-leather, linen-stitched case for business cards. Plus cases for the big things, like water-resistant duffel bags with leather trim, copper rivets and solid-brass hardware (sure to be a hit at your next hardware convention).
As usual, the real excitement comes when we get to your belt. You'll choose everything from the length to where you want the holes punched. They'll even emboss your initials in for no extra charge.
Which should make finding it easier than ever.