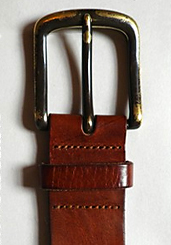 In life, there are certainties.
Death. Taxes. The unending pleasures of communal hot-tubbing.
And, of course, the fact that you have no control over the color of the stitching on your belts.
Prepare to have that last one totally blown out of the water.
Presenting
Summer Creek Custom Belts
, a Utah-based, one-woman outfit ready to design your own waist wear from soup to nuts, available now.
Ever since the frailties of your current belt were exposed over Thanksgiving (read: the "stuffing incident"), you've been on the market for a new belt. Enter this Western woman, who cuts and burnishes each belt by hand using vegetable-tanned leather from one of the oldest tanneries in Europe (Utah and Europe... finally connected somehow).
You'll dictate everything to her, belt-wise: width, color (black, British tan, oxblood), stitching color, even the shade of the roller-buckle she uses (don't worry, she has pewter). Then, a week or so after ordering, your belt will arrive (possibly sooner, if you happen to be at your vacation home in Provo).
And since we
know
you're wondering: yes, you can customize the cut design of the non-buckle end, too. You'll choose between rounded, square and angular.
No, she can't cut it in the shape of the ThunderCats symbol.