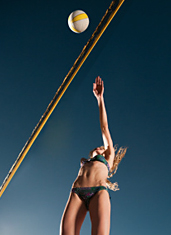 Bikini-clad models jumping up and down in the Bahamas.
Good. Now that we've got your attention, we can get to the important business of... bikini-clad models jumping up and down in the Bahamas.
Give everlasting thanks for the existence of
Model Beach Volleyball in Bimini
, which is so very much what it sounds like. And it's happening this weekend.
You know models. Impossibly beautiful. Get photographed a lot. Frequently wearing fewer clothes than a normal person does. Yes, those are the ones. Well, a group of them is getting together in Bimini (as one does) to play what we can only assume is a crucial tournament on the model-volleyball circuit. It all adds up to spectacular dives for balls, helpful and glorious patting away of sand and, God willing, an urgent need for help with the tanning lotion.
It'll go down like this: you'll book the volleyball package at Bimini Bay Resort, which is hosting this blessed event. Friday, you'll start faking a violently contagious disease that leaves you no choice but to immediately jet down to the Caribbean to "see a specialist." From there, it's nothing but DJ sets, Bahamian barbecue and just the perfect amount of rum to get you to chat up the... athletes.
We see a new Facebook cover photo in your future.