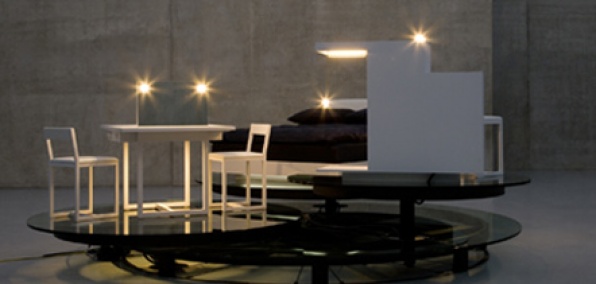 Unless you're homeless, Ben Stiller or a young Richie Tenenbaum, you've probably never attempted to stay the night at a museum.

But starting today, you can make a reservation to stay in a hotel—a hotel with only one room—smack dab in the middle of the Guggenheim.

Yes, Frank Lloyd Wright's inverted ziggurat masterpiece can be your Fifth Avenue crash pad for the night. As part of the upcoming group show, "theanyspacewhatever," Brussels-born artist Carsten Höller has created a stand-alone hotel room in the middle of the museum.

Situated on three concentric glass disks that rotate ever so slowly, the "room" has a double bed, a desk, a changing area, and that's pretty much it. You get a robe, slippers, access to a bathroom/shower and a continental breakfast. But the surroundings here trump all amenities. Once the masses are booted at closing time, you are free to privately soak up the exhibition after-hours. You literally have your run of the place.

While the room has no walls, no room service and, alas, no mini-bar, it does have the best hotel art you've ever seen, and the room is double occupancy. As countless Lincoln bedroom guests can attest, a romp in a designated landmark can be...historic.

Security will be on hand for obvious reasons, but you'll just have to do it for art's sake.