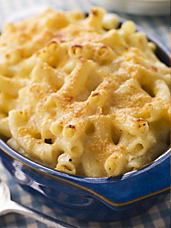 Someday soon, there will be a knock on your door.

Maybe it'll be a mystery telegram crooned in German.

Maybe it'll be a guy named Rick.

Then again, maybe it'll be a spritely blonde woman holding a pan of four-cheese mac and cheese...

Introducing The Mac Shack, a new mac-and-cheese delivery service eliminating the going-outdoors step in your mac-ingestion process, taking orders now for delivery on the second and fourth Sunday of every month.

Yes, it's happening. A menu now exists with just one cuisine on it: deliverable mac and cheese. And it's all thanks to a stouthearted noodlesmith by the name of Kathryn Albright, whose mission is to get you eating crab cake mac and cheese in the comfort of your own living quarters as soon as possible.
So the Braves are at home this weekend. And considering you'll want to let others in on this culinary innovation, your takeover of the Delta Medallion Lot this Sunday afternoon is as good a time as any to one-up your less adroit lot-mate tailgaters with a sheet pan of
Lemon Rosemary
or
Buffalo Chicken Mac
(it's buffalo chicken, garlic and blue cheese).

Hop on the site, pick from five options and try to distract yourself till delivery. Before you know it, Kathryn will be knocking on your door with an eight-pound pan of Chicken Cordon Gold with boursin, roasted chicken breast, prosciutto and Galliano liqueur.

And just like that, the edible aperitif is born.