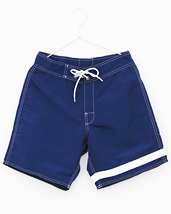 Your modest stake in some sort of phone-camera-based social network just netted you a tidy sum courtesy of one M. Zuckerberg.
Economics is crazy.
Also: we assume you'll be heading to an undisclosed tropical location posthaste.
And this is what you'll be wearing.
Introducing
Batten Sportswear
, a line of funky-colored, wearable standbys inspired by the more sandy parts of the world, available online now.
Let's get philosophical for a second: in order for nude beaches to exist, there naturally have to be
other
places—ones where clothing is expected. And for those places, there's this stuff.
Picture brilliant anoraks you can jam into a bag and weather afternoon typhoons with, and a couple of so-over-the-top-they're-amazing Hawaiian-print shirts and shirt jackets, complete with unabashedly '70s-style pointy collars. It's like Serpico retired to Maui, or like seeing Magnum, P.I., in the disco era (but, you know, if it were awesome). Boardshorts also make an appearance.
You'll probably be wearing this stuff more often than you initially intend to. Which is fine. That's just what broken-in cotton T-shirts, floral "I don't give a f***" shorts and the forthcoming bottomless supply of sunlight are for.
It's okay if you
do
give a f***.