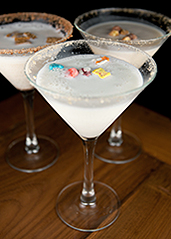 Typical Friday night: a formidable sprawl of oysters and steak.
Typical Saturday morning: you kind of just want some Lucky Charms.*
(*In a martini glass.)
Introducing
Cereal Martinis
—finally, a respectable way to get your cereal splashed with vodka instead of milk—launching this weekend for brunch at Lola's.
If you've been looking for a way to combine a hazy breakfast on your couch with a big morning-after brunch on Fairfax... Lola's has finally stepped up as the place to make this happen. Come Saturday morning, grab a table on the patio and order your Lucky Charms—it will actually be a martini, with some cereal floating in marshmallow vodka. All that's missing is the Cartoon Network.
And if you've always assumed vodka might go better over some Froot Loops—or Cinnamon Toast Crunch, or Reese's Puffs, swirled together with chocolate vodka and a homemade peanut butter blend—they've got you covered.
So yeah, these cocktails may be a bit sweeter than what you usually drink...
But you didn't come here for Müeslix martinis.