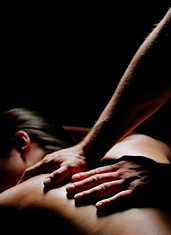 We're lovers. You know that. But every now and again, something comes across our desks that just seems... suspicious. Because of the tremendous material upside to all our lives if these claims pan out, we at times put ourselves in harm's way to investigate. Albeit skeptically.
We call it:
Skeptical
Investigation. (Trademark pending.)
THE CLAIM

Allium at the Four Seasons knows you like bourbon. Hence, its own private-label Evan Williams single-barrel. Now they think you like bourbon so much you'll want to rub it all over your body—hence,
Bourbon Body Treatments at Spa at the Four Seasons
.
THE INVESTIGATION

Our brave researcher arrives. Robes are offered. Massage chair cranked to shiatsu. Toes submerged in a warm bath. Bourbon arrives with a perfect sphere of ice. It is sipped. Inhibitions melt. Feet are pumiced with bourbon scrub, unleashing an enveloping bourbon-syrup aroma. Manicure ensues. More bourbon consumed. Fingertips buffed to a high gloss with a bourbon-and-brown-sugar scrub. More wafting.
Investigator then led by softened cuticles to a warm massage table. Back: thoroughly bourbon-exfoliated. Shoulder knots: untied. Neck muscles: thumbed into submission.
After that, another bourbon appears. Investigator led to a quiet room to meditate with it in terry-clothed splendor.
THE VERDICT

Generally, bourbon is best used internally. But frankly, your toes deserve a drink.