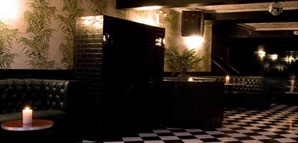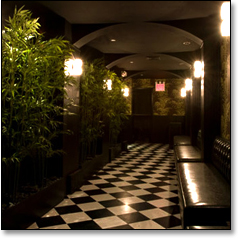 Partying in a basement always brings back fond memories.
From your high school party days to the opening of
La Esquina
, what's down a flight is always where the action is. To twist the old phrase, if you want to get up, you got to go down.
The newest entrant on your subterranean party map:
Southside
.
Rising from the ashes of what was once the preppy playground
Bella's
, Southside has taken on a more British Raj-meets-Bungalow 8 feel, replete with black and white checkered floor, floor-to-ceiling palm tree wallpaper, tropical flowers, deep green leather banquettes in which to contemplate the rise and fall of empires (or just your drink) and...a disco ball.
The sophisticated-yet-inviting look says it all: Bella's has finally graduated, spent some time globetrotting, picked up a temporary opium habit and a permanent taste for gin and come back to New York ready to dance. And sure, there's still the bottle tables lining the wall, but the only one you need to keep your eye on is a small, more hidden nook along one of the walls—an excellent choice for various mature pursuits.
If last night's preview was any indication of things to come, the dance floor will overflow and send a flood of partygoers to every conceivable cranny in the spot...inevitable whenever there's a brand-new $300,000 sound system. In short, expect a spontaneous group massage, as dance-obsessed strangers will inevitably rub up against you on all sides.
It's just one of the "hazards" you'll have to endure.