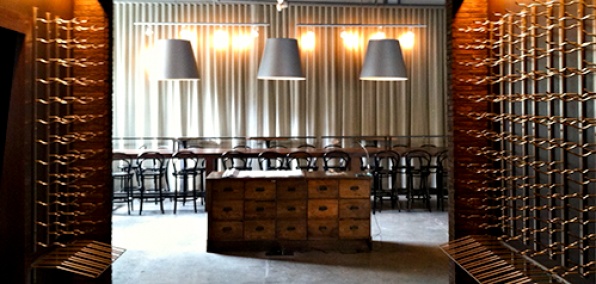 Hide-and-seek.

It was good times back in the day.

Hiding behind curtains. Climbing trees. Hiring David Copperfield to turn you into a park bench.

But now it's time for a new game. It's called find-the-pizza.

More specifically, the two bright-red Acunto pizza ovens that just landed in Buckhead by way of Naples.

Hint: they're at STG Trattoria, your new sanctuary for Cynar cocktails and communal Neapolitan pie consumption that happens to be completely hidden behind a spin studio and a hair salon (that old scenario), slated to soft-open mid next week.

Once you do manage to get a beat on this place (it's not visible from the street), you'll quickly find yourself in an arched tunnel of an entryway surrounded by brick and endless racks of wine bottles. Consider it foreshadowing.

Because just to the end of that tunnel and to the right lies a massive, U-shaped communal table facing an open kitchen and those two Acunto wood-fired pie ovens. Take a seat, order some wine on tap or a Reviver Pop (it's absinthe, Cocchi Americano wine, lemon juice and tonic) and get ready for a show.

That show: brought to you courtesy of a couple of Sotto Sotto and Abattoir vets who'll be busy putting the perfect char on your margherita, judiciously kneading your pasta and assembling charcuterie plates like surgeons.

Not real surgeons, though. They're probably horrible at that.