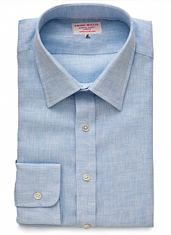 British women. You know the type:
Sexy accents. Great curves. Names like Pippa.
Also, legendary shirtmakers.
About that last one...
Welcome
Emma Willis Bespoke
, a line of possibly the greatest shirts you'll read about today, made just for you and available online for the first time now.
About Emma: she started as an aspiring rock star. Then she began selling shirts to pay the bills. Then, yadda yadda yadda, she's now the first woman to have her own place on Jermyn Street, the shirts-only version of the suited paradise that is Savile Row. (They've got a street for everything over there.)
Her shirts are the kind of mother-of-pearl-buttoned, Swiss cotton and linen treasures you'd gladly jet to merry old England to be fitted for.
But that won't be necessary. Because now you'll just hit her site and craft your ideal torso coverage. You'll choose from some classic, Gekko-esque dress shirt types and a handful of tuxedo-ready numbers. The rest is up to you. This means choosing collar, cuff, front and pocket styles. Then: entering in a few key measurements (your tailor will have these, or you can just take them yourself). In a few weeks, your wares will arrive.
They should distract from the fact that you're not wearing pants.