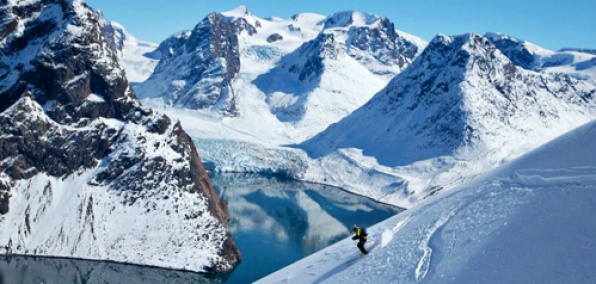 This is it, kid. You're ready for the pictures.

We see it now: a big-hearted indie ski flick set near the Arctic Circle. Set atop some of the world's steepest glaciers.

And it goes without saying: you'll be doing your own stunts...

Welcome to Kangaamiut Ride with a Pro, a Warren Miller–style quest to create the ultimate skiing highlight reel starring you, taking reservations now.

The narrative here: anything you can dream up. The setting: hundreds of undiscovered glacial runs down Greenland's deadly-steep Kangaamiut fjords. Your director: an award-winning French filmmaker (aren't they all) who'll ensure no pivot goes undocumented.

A typical day starts with you and your crew—led by competitive freestyle skier Thibaud Duchosal—plunging out of a helicopter onto a 6,560-foot-high glacier. You'll zigzag down vertical chutes hemmed in by cliffs, then glide along smooth flats until you hit the ocean. (If you don't nail it on the first take, you'll have 18 to 20 hours' worth of daylight to try again.)

Post-wrap, you'll return to the home of a local villager (your trailer for the week) to discuss how to cut, edit and possibly narrate your film.

Good thing you have Morgan Freeman on retainer.