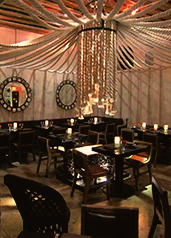 Hey, you look like you could use a duck confit taco. Maybe some tequila.
Also, that shirt really brings out your eyes. But let's focus on the tacos and tequila.
Welcome to
Tortilla Republic
, a breezy altar of agave, tacos and sweet potato fries, now soft-open in West Hollywood.
If on some night in the near future, you find yourself outside Cecconi's watching Jane Fonda regally traverse the manicured drive and you suddenly think, "Actually, not tonight," turn around and take a few steps up Robertson. You'll find tequila. Guac. More of a loose, fun-Friday-night vibe. You'll catch up with Jane next time.
There's a front patio, which is best if you want to stay in the sun. Otherwise, we see you strolling in with a date who can handle a couple shots, passing through the huge tequila-bottle shrine in the main room and settling into a more discreet table in the back room under a big chandelier made of ropes that spread across the ceiling and down the walls. (Your dinner, now with gym-class flashbacks.)
On your plate:
duck confit tacos with sour cherry salsita
, some hibiscus flower enchiladas or a spiced, caramelized pork chop. In your glass: probably a margarita. Maybe a pisco sour.
Hibiscus flowers always make you thirsty.