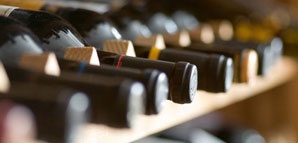 When it comes to date night, you can pair a restaurant to a mood with the greatest of ease.
But when you really want to ratchet up the intimacy, only one place will do for dinner: yours.
And we've found you the perfect sous chef:
Spuntino di Ottimista
, the new gourmet grocery and takeout shop opening tomorrow in Cow Hollow.
Launched by the same people who brought you Ottimista Enoteca-Café wine bar a few blocks away, the folks at Spuntino will hook you up with everything you need for a night of romance, passion and carbohydrates.
Stop here after work and sort through thirty-plus artisanal cheeses—we recommend the five-year cheddar from Quebec paired with an Argentinean Malbec (subtly pointing out your intercontinental-ness), or the
Redwood Hill Farms Goat Cheese Crottin
and a Napa Sauvignon Blanc (emphasizing your local roots). For the main course, we'll leave it to you to choose between the sausage and potato pizza and the hearty lasagna—both are par-baked and only need another ten minutes in the oven before the big reveal.
You can even tell her it's homemade.
Because, technically, it is.