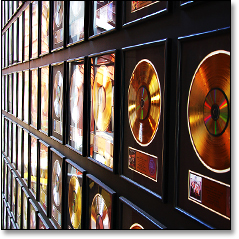 You own some CDs, a bunch of MP3s and maybe even a few old Marvin Gaye records. But do you really
own
them? And are they platinum?
It's time you take control of your music. Here's one suggestion:
SongVest
, a new website auctioning off ownership rights to some of your favorite (and not-so-favorite) songs.
Think of SongVest as a new investment vehicle—sort of iTunes meets Sotheby's—that has nothing to do with a bank, subprime mortgage or option swap. Instead you're investing in pure American rock and roll (and maybe some country and a TV theme song). What could be more safe than the theme to
Days of Our Lives
?
For various reasons, all of the participating artists have decided to auction off part of the royalties to their songs. All you have to do is go online, register and start bidding on the song of your choice. Once you win, you'll own the designated percentage of the song, and the royalty checks will start rolling in. You'll also get a framed gold or platinum record with handwritten lyrics so you can prove that you actually own the song in question (and the bragging rights).
The current roster is small but growing, and it includes some Aerosmith, some Garth Brooks, a little Ringo Starr and the theme song for
The Monkees
.
But we wouldn't recommend monkeying around with that one.