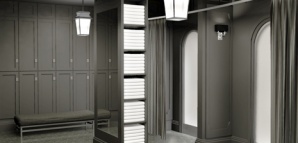 For you, unwinding at the Carlyle usually means throwing back a few stingers at the legendary Bemelmans Bar.
 
But a life spent guzzling spirits requires occasional rejuvenation. The road to recovery can now be found two floors up at Sense, the hotel's new exclusive spa, where you'll find what you need to get back to basics (you know, stingers).

Upon entering the intimate, chandelier-studded space, a tuxedoed attendant immediately fetches you a glass of champagne while you head for the locker room, replete with steam room, rain showers and some of the finest terry-cloth robes we've had the pleasure to cinch up. After decompressing in the "relaxation lounge" (is there anything more relaxing then a few tasteful black-and-white nudes?), you will be led down an arched stairway done up in platinum mosaic to where pleasure awaits.
 
The a la carte menu offers the usual suspects of massages, manicures and skin treatments, but if you're in need of a serious overhaul, opt for the three-hour Gentleman's Deluxe Ritual—a superior regimen of dry scrub, steam towel rubdown, massage and black-diamond facial. This intense journey will clear the cobwebs from your head, relax the aching body and make you forget the Dow's latest plunge.
 
If it doesn't, the stiff pours are always waiting downstairs.