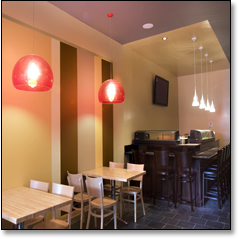 Trends come. Trends go.
A current trend you don't love: froyo shops.
A current trend you do: noodle houses.
And the latest object of your affection is
Ramen Club
, a new pan-Asian restaurant opening Monday in the Marina.
The off-Chestnut Street location is your first clue that this isn't like the no-nonsense eateries on Geary or in Japantown. Instead, earth-toned walls, red light fixtures and granite-colored floors ease you into a fluorescent-free setting that's suitable for a casual date (or, if you prefer, a casual breakup).
You'll find more ramen-based options on the menu than days of the week, and that doesn't include the daily specials. Start with the
Beef Ramen
—it's always a safe bet, and it pairs nicely with the house's large bottles of Sapporo.
Of course, if you don't feel like eating ramen at Ramen Club (gasp), you're actually still in good shape. There's enough sushi on the menu that the place could easily be called Sushi Club. And if you want something a bit more filling, just tap into the deep-fried
Salt & Pepper Calamari
,
Chicken Wings
and—especially—
Filet Mignon
.
Because while trends come and go, some offerings remain timeless.