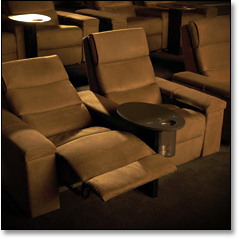 This whole Wall Street mess has left you with a hankering for some Hollywood-style escapism. Only, let's get that luxury dialed up...
Introducing the
Village Roadshow Gold Class Cinemas
, opening Friday in South Barrington.
Part of the newly opened Arboretum shopping complex, the Cinemas are the first of 50 planned US locations offering state-of-the-art screening rooms modeled on the ones studio execs have used for decades. Capacity tops out at 40 viewers, and each seat is suede-covered and fully reclinable. A concierge is just a call-button away, ready to bring your date a chenille blanket or the two of you a bag of popcorn. (There's also more rarefied nosh like
Lobster Rolls
,
Waygu Beef Burgers
and
Duck Tacos
, although we would caution you to remember you're here for
Body of Lies
, not dinner theater.)
Admission price for all this, excluding the food, is $35. Obscene, we know. On the other hand, it's a small price to pay to feel like Cecil B. DeMille for a couple of hours.
Plus, the higher rates should help keep out the riffraff.
You know, like screenwriters.