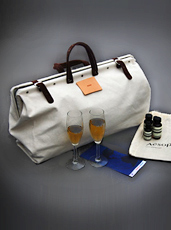 You know, it's been ages since you got a present.
It happens in those
early months of the year—people just aren't getting you presents.
Best to take matters into your own hands...
Introducing
Bespoke Post
, a monthly subscription service doling out boxes of random treasures, taking sign-ups for April packages now.
You've seen this before. Just not quite as—what's the word—good.
The principle: you get a package every month. And in that package could be anything—home bar tools from the guys who outfit Milk & Honey in New York and the Varnish in LA. Or maybe a custom-commissioned waxed-canvas bag with passes to a private airport club for your weekend travel. And, oh yes, a grill kit.
It's the result of some guys sitting around thinking thoughts like, "What would make my day right now," brainstorming some answers, putting them all in a box and sending that box to you.
All you're going to do is subscribe. Toward the middle of the month, you'll get a package. Then: enjoy its contents. At the beginning of the month, you'll find out what that month's package will be. And in case you've already got, oh, who knows, an artisan doghouse kit, you've got the chance to opt out here when necessary.
It's probably not going to be an artisan doghouse kit.